What Video modes does Brave 7 LE support?
There are 6 modes of this action camera: Normal Video, Loop Record, Time Lapse, Time Lapse Duration, Slow Motion, and Fast Motion.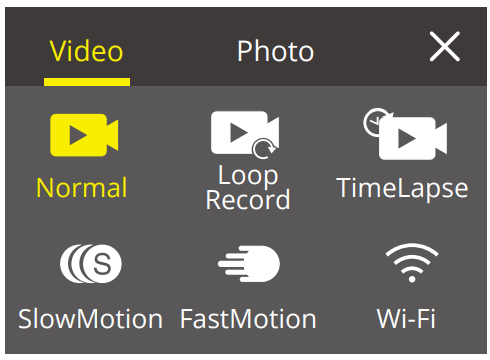 1. Normal Video: The default setting is Normal Video.
2. Loop Record: 1 Min/3 Min/5 Min
The default setting is 1 Min.
Loop recording allows your camera to overwrite old files with new files. Once the memory card becomes full, the camera will delete the first video file to make room for the latest file. For example, if the setting for loop recording is "1 Minute", then the camera will create video clips of 1 minute in length and a 1-minute clip will be deleted when the camera needs more memory.
3. Time Lapse: 1 Sec/3 Sec/5 Sec/10 Sec/30 Sec/1 Min
The default setting is 1 Sec.
In Time Lapse Video mode, press the Shutter button, the camera records videos from frame rates captured at specific intervals.
Note: Time Lapse Video is captured without audio.
4. Time Lapse Duration: Unlimited/5 Min/10 Min/15 Min/20 Min/30 Min/60 Min
The default setting is Unlimited.
You can enable Time Lapse Duration to set the total duration of timelapse videos.
5. Slow Motion
In Slow Motion Video mode, press the Shutter button, and the camera records slow-motion video.
6.Fast Motion: 2x/4x/6x/10x/15x
The default setting is 2x.
Action that appears to move faster than normal on the screen, is accomplished by filming the action at less than normal speed in the camera and then projecting it at normal speed
What parameters can be adjusted in the Video modes?
Video Resolution: 4K30fps/2.7K60fps/2.7K30fps/1080P120fps/1080P60fps/ 1080P30fps/720P240fps/720P120fps/720P60fps
The default setting is 4K30FPS.
Voice Record: Off/On
The default setting is On.
Image Stabilization: Off/On
The default setting is Off.
This setting adjusts the footage to offset motion during capture. The result is smoother footage, especially in activities with relatively small but fast motion including cycling, motorcycling, and handheld uses.
Video Quality: High/Middle/Low
The default setting is Middle.
Wind Noise Reduction: Off/On
The default setting is Off.
Turn on Wind Noise Reduction, it can lower the noise to an acceptable level.
Auto Low Light: Off/On
The default setting is Off.
Auto Low Light mode will automatically adjust settings according to lighting conditions to achieve the best low-light performance. Even if you move back and forth between bright and dark environments, you do not need to manually adjust the camera settings.
EV: -2.0/-1.0/0.0/+1.0/+2.0
The default setting is 0.
By default, your camera uses the entire image to determine the appropriate exposure level. However, exposure lets you select an area that you want the camera to prioritize when determining exposure. This setting is particularly useful in shots where an important region might otherwise be over or underexposed.
Metering: Center/Multi
The default setting is Multi.
The metering mode refers to the way in which a camera determines exposure.
Date Stamp: Off/Date/Date&Time
The default setting is Date&Time.
Turn on Date Stamp, this camera adds a date stamp to the videos and photos you take.